POMEPS has had the pleasure of hosting numerous book launches with top-notch scholars in the field of political science since 2010. That being said, it is impossible to showcase all of the excellent work being published by Middle East scholars, though we wish we could. Over the next few weeks we'll be featuring some of the fascinating books released in 2013 and winter 2014 on the POMEPS Blog. Today, we're delighted to highlight Madawi Al-Rasheed's 2013 book A Most Masculine State: Gender, Politics and Religion in Saudi Arabia (Cambridge University Press).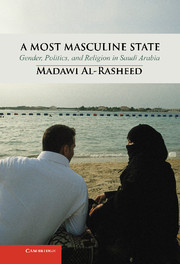 A Most Masculine State tosses aside traditional gender tropes to "probe the historical, political, and religious forces that have, across the years, delayed and thwarted their emancipation. The book demonstrates how, under the patronage of the state and its religious nationalism, women have become hostage to contradictory political projects that on the one hand demand female piety, and on the other hand encourage modernity. Drawing on state documents, media sources, and interviews with women from across Saudi society, the book examines the intersection between gender, religion, and politics to explain these contradictions and to show that, despite these restraints, vibrant debates on the question of women are opening up as the struggle for recognition and equality finally gets under way."
For more on Saudi Arabia from Madawi Al-Rasheed, read "Egypt's Coup and the Saudi opposition" on the Middle East Channel (August 19, 2013) and  "Yes, It Could Happen Here" in POMEPS Briefings 5 "The Saudi Counter-Revolution" (August 9, 2011) . — C.K.